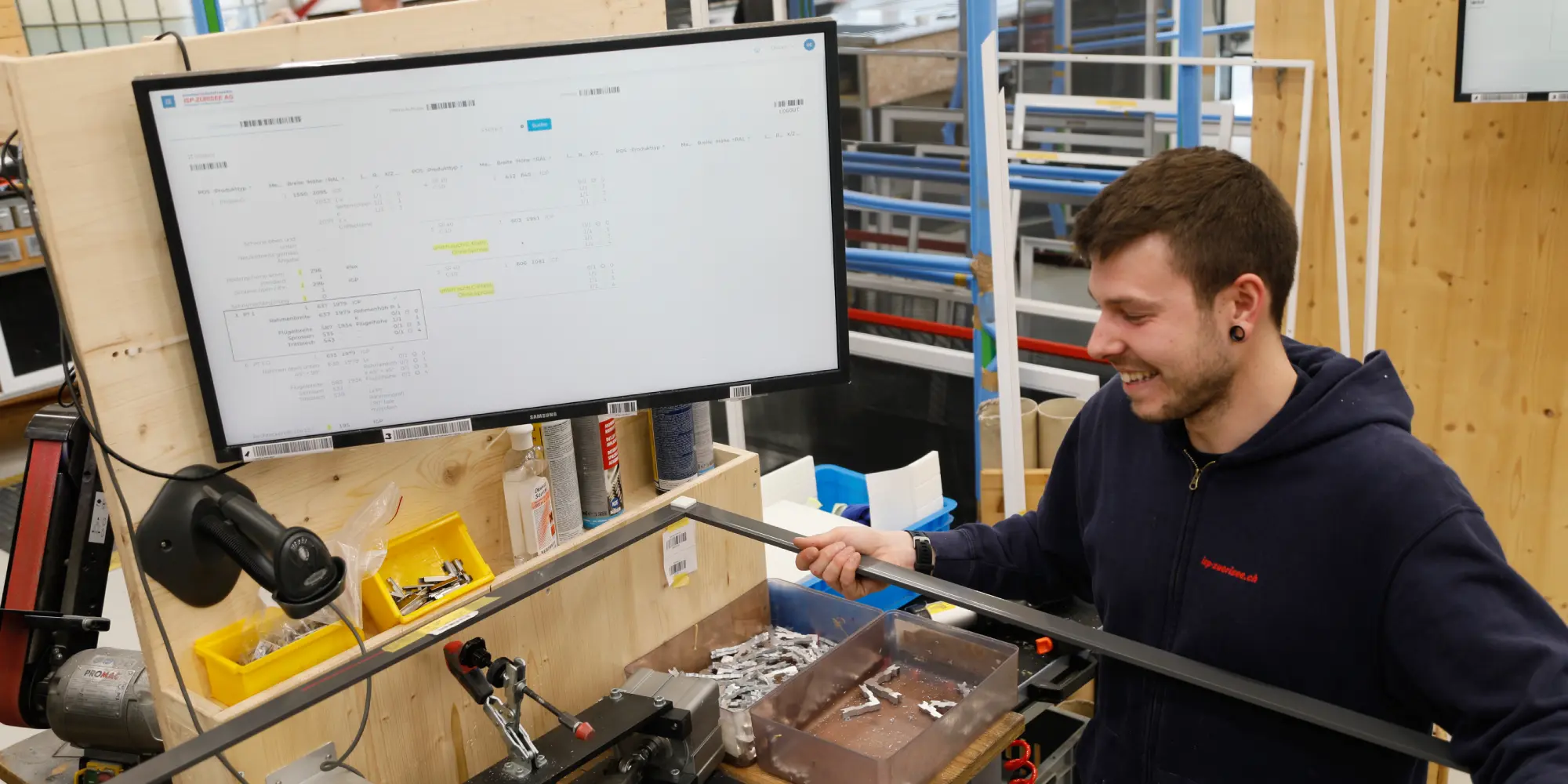 With the focus always on the business and its needs
Project ISP-Zuerisee AG


Category
Digitisation, Replacement of legacy system

Key Benefits
> 6000 hours saved'
Less production waste
Processes are digital stored
The digitisation of ISP-Zürisee AG
Swiss-based ISP-Zürisee is one of the leading production companies for made-to-measure insect protection screens in Switzerland.
For the last two decades, it has produced custom-made insect screens in its production facility, all guaranteed to the highest Swiss-quality standards.
ISP-Zürisee has built a reputation for great flexibility, working with customers to deliver bespoke options, variants, special requests and short delivery times.
Project requirements
One of the critical requirements of the company's digitalisation initiative was to modernise its systems and to significantly decrease its paper usage. The business saw the potential to realise several operational efficiencies through the project, and become more scalable through the use of innovative software solutions.
Solution
Eximias began the digitalisation process with an in-depth analysis of existing applications and processes, and found a combination of Excel spreadsheets on local machines, paper records, and a single access database.The business opted to adopt a single cloud-based solution. During this process, we put a particular emphasis on user-friendly interfaces. Look and feel was strongly considered and we experimented with several GUI prototypes. After six months, the company went live with our first version of the cloud-native platform.ISP-Zürisee was able to derive business intelligence insights and make efficiency savings across the business.Digitalising its systems ensured all company data was accessible to its employee base, meaning it could continue business as usual when employees are on vacation or off sick.Every step during the sales process, production, delivery, and payment was digitalised and automated.
Quality assurance mechanism
Human mistakes are inevitable when you have a high production volume. ISP-Zürisee developed a number of quality assurance steps to ensure that any human error can be caught and acted upon.For instance, whenever a new order is created it needs to be confirmed by a predefined supervisor before it can be produced (four-eye-principle). As a result, nobody from the workshop can access a non-confirmed order.Another quality enhancement technique is using business logic to assist calculation steps during the creation of an order – for example, the price calculation of an insect protection screen based on the necessary dimensions.Another example is the calculation of required data for the cutting plan in the workshop.
"We have been able to create every order in our system and create relevant business documents such as invoices and delivery notes. Now we can also automatically transmit payments to our trust office, automatically track the flow of materials and the inventory, and therefore initiate orders to our suppliers in time,"
said Roland Mauthe, CEO, ISP-Zürisee.
"In addition, we were able to largely reduce paper documents from the production process and all information is now digitally available at every workstation. This means that you can immediately see the progress of orders or which working steps still need to be carried out. This not only increases the quality of the production process but also saves a lot of time and money."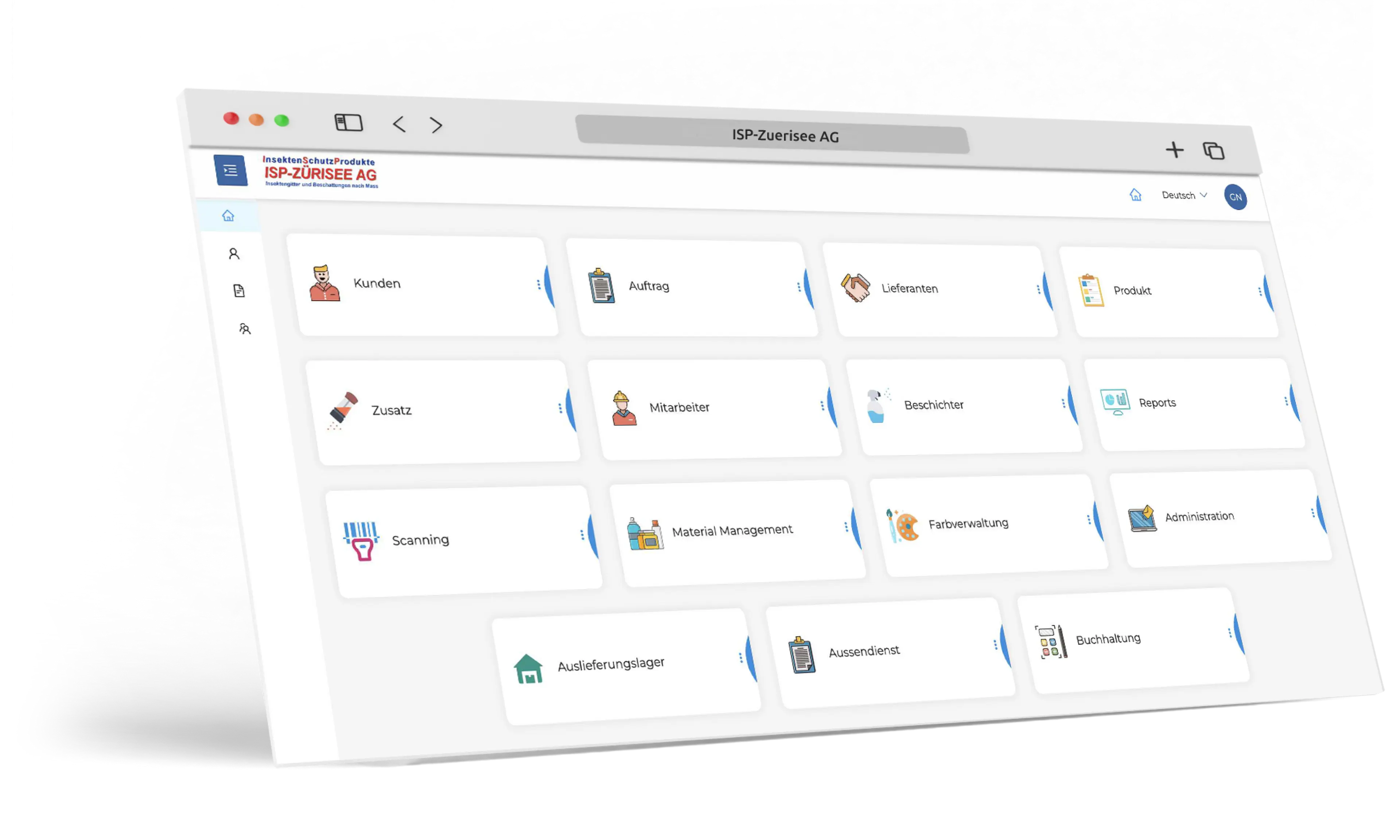 Continuous development and integration
Eximias' Docker container-based solution allow us to quickly deploy new features and patches instantly. It has enabled the company to make daily updates, rather than pushing out new releases each month.As part of our QA approach, we deploy all new features first to a test server where the customer can see them. Once approved by the customer, we deploy the changes to the production system.
Reduced maintenance costs
Our cloud-based platform allows for automatic backup, eliminating the requirement to oversee costly infrastructure.
Location and OS independent access
Our solution is a pure web application that runs in the cloud making it widely accessible across multiple devices and operating systems. For security reasons, we introduced access protection (based on IP range) so only approved IP addresses can access the platform. In case of non-static IP addresses, like smartphones, we provide access through a VPN solution.
Material tracking
Manufacturers need to know how much inventory they have in their warehouses. Having an accurate picture of materials can help save companies money, capacity, and improve customer service.We created a real-time solution with information on used materials, which sends alerts when new supplies are needed. Different formulas are added so the customer can calculate material wastage depending on frame type.
Improved tracking of workshop progress of orders
Tracking the progress of orders can be used to measure the performance of a workshop and current workloads. Additionally, ISP Zürisee can now provide better customer support as they can immediately answer questions about the status of an order. Before the introduction of our solution, a clerk needed to check with a worker in the workshop and then call back the customerWe implemented a pure barcode-based solution, eliminating the need for a keyboard and mouse to track production. All necessary steps to track the production are reduced to a minimum and are all executable with only a barcode reader.

Conclusion
Post implementation, production time and delivery time was reduced, as was material wastage. ISP Zürisee saved thousands of personnel hours through the use of automation.
Business logic is central to our solution, and in this use case we were able to automate several business operations, including elements of production, ordering, and cost control. This step has eliminated the potential for human error in many areas, as well as making the organization's financials more transparent.